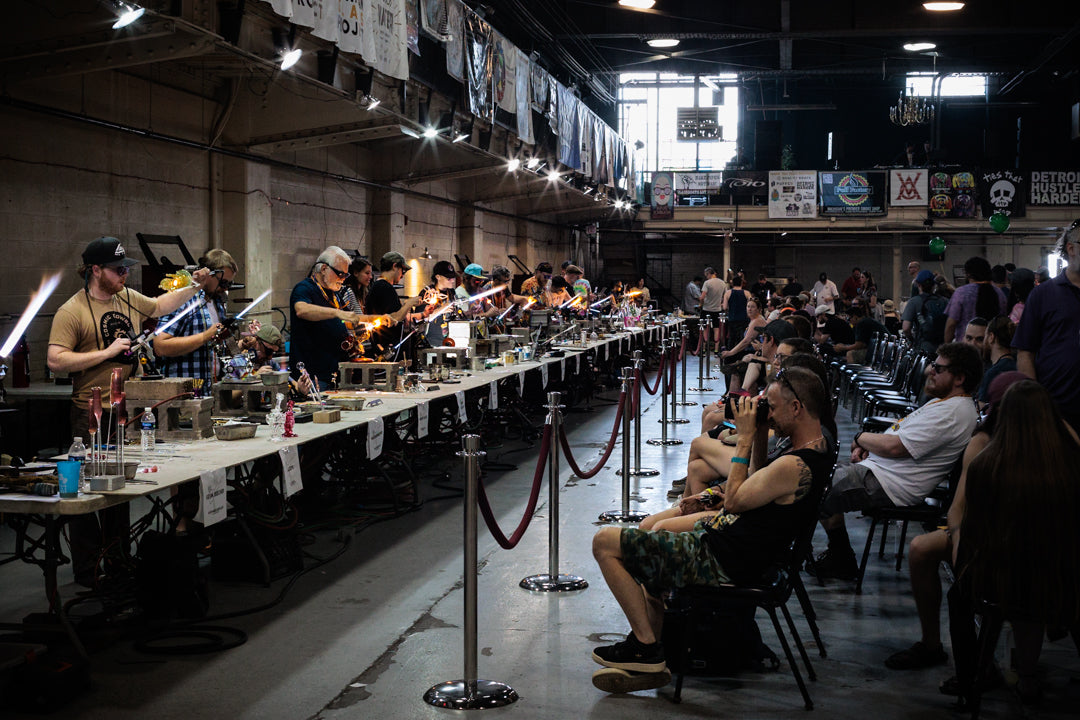 Exploring the American Glass Art Scene: Highlights from the Detroit Glass Art Society Conference 2023
Introduction: A Journey to Detroit and the GAS Conference 2023.
Recently I was fortunate enough to travel to Detroit, USA, to attend the American Glass Art Society (GAS) annual conference of contemporary glass artists. The first conference to be held since Covid offered an excellent opportunity for glass makers from around the globe to catch up with new ideas and techniques, forge/rebuild friendships and develop new collaborations.
I have attended many UK glass conferences but only two GAS conference - the first in Murano, Italy and the second in Florida. Sadly the 2021 conference, which was due to be held in Sweden was cancelled due to Covid. 2024 will see the conference travel to Berlin so hopefully it will be accessible to many more European artists. Hosting events like this in different countries creates amazing opportunities for international collaboration and knowledge transfer.
At Cumbria Crystal we take immense pride in our tradition of producing exquisite hand-made, lead crystal stem and barware. It is essential we stay updated with the global trends of glass artistry so we can ensure future collections are relevant, hence the importance of such opportunities to meet. 
Discovering Detroit's Glass Art Scene.
Though I'd never been to Detroit, the city, despite recent investments and improvement, bears the scars of decades of financial woes, population exodus, bankruptcy and social challenges. Despite this, the city wears its heart proudly on its sleeve and offers visitors many exciting opportunities to explore and absorb the culture.  
World-class museums, such as the Henry Ford Museum, the Museum of Contemporary Art and the Detroit Institute of Arts, nestle alongside abandoned factories and no-go areas. In one of these abandoned buildings, flame workers from across the States assembled in their hundreds to showcase their skills at glass making and the artistic creation of artistically ingenious Pipes.  
The gathering felt like a creative Renaissance, and many works can only be considered to be 'art'. Often developed collaboratively, pipes command extraordinary prices, up to $10-20,000; this is a new and dynamic glass genre I was unfamiliar with and will follow with interest in future.  
Embracing Digital Innovations in Glass Art.
A definite trend towards adopting and integrating 3D digital technologies into contemporary practice was particularly evident alongside the more traditional skills.
Hundreds of professional and aspiring glass artists attended the Detroit conference itself. It was studded with a broad selection of workshops, exhibitions, lectures, LecMos (lecture/demonstrations) and technical presentations over a packed three day programme.
This included lectures on Fusion 360, a software package used to help develop complex moulds for casting glass; 3D printing of glass which was brilliantly demonstrated by Jeffrey Sarmiento, an ex-Sunderland University lecturer who recently relocated from the UK to ANU – the Australian National University.
Anyone visiting Detroit who is interested in art and sculpture should seek out the incredible
Habatat Gallery
, which exhibits the work of over 400 of the world's most accomplished artists.
Without a doubt, the sheer scale of the gallery and breadth of work on display is absolutely mind-boggling, completely dwarfing anything I have experienced in my career to date. The gallery represents the work of my partner, Dr. Heike Brachlow who delivered a lecture to select Habitat Collectors who were participating in a hosted two-day tour. I was therefore also able to access activities and meet a rare breed of dedicated people on whom so many careers rely - serious art glass collectors.
The conference closed with an enormous Private View at Habatat Galleries for all attendees, artists and collectors. 
Post-conference, a three-day trip to Corning Museum of Glass (CMOG.org) near Almira, New York state, to visit Amy Schwartz (Director of the Glass Studio) and Bill Gudenrath (recognised internationally as one of the foremost authorities on glassmaking techniques of the ancient world). Catching up with Richard Whitely (Artist, and Senior Program Manager) at 'The Studio' is responsible for developing and managing a series of new glass making programmes, helped top off the trip.
I was delighted Amy Schwartz offered us a sneak preview of the new Studio facilities currently being built at Corning, to be called 'Studio Now'. The vast $40M+ development is well underway, with Phase 1 opening in late 2023 and Phase 2 planned for 2024. 
I've have followed Amy and her team's fundraising journey for nearly a decade, and it was gratifying to witness the new facilities taking shape and her bold dream becoming a reality. 
This includes - experience workshops; dedicated workshops for various glassmaking courses; five studios for visiting artists; a glass-casting facility; two new glassblowing studios with multiple furnaces; cold-working facilities, and the upcoming introduction of a full-time Corning Glass Training program supported by the museum collection, contemporary galleries, and the famous Rakow library.
Of course, many of the best visiting glass artists worldwide will be regular visitors. Praise should be showered on Amy and her team for bringing this vision to life.
'Studio Now' will undoubtedly cement Corning's position as the pre-eminent contemporary glassmaking destination in America and the world for generations to come and if the opportunity presents itself you should undoubtedly visit.
Lessons from Across the Pond.
In conclusion, American support for contemporary glass artists is impressive, encompassing physical resources and strong networks involving galleries, suppliers, colleges and independent studios.
Throughout the trip I was struck by the quality and quantity of educational institutions offering glass programs and excellent facilities. This starkly contrasts with the UK's smaller, no less talented, glass community which often struggles to secure recognition and funding. This is increasingly a concern with some university courses that struggle to justify the ever increasing costs of the specialist equipment, materials and energy that is required . 
With so few hand-made glass manufacturers like Cumbria Crystal to employ graduates, many young artisans in the UK how lean towards self-employment as glass artists and designers.
Sadly and all too frequently we hear of the closure, or dilution of yet another university department teaching glass. Only a handful now remain in the UK, so each time we lose a class, the impact becomes more substantial. A lot can (and should) be learned from the American model.
Chris Blade MA (RCA)
CEO, Cumbria Crystal