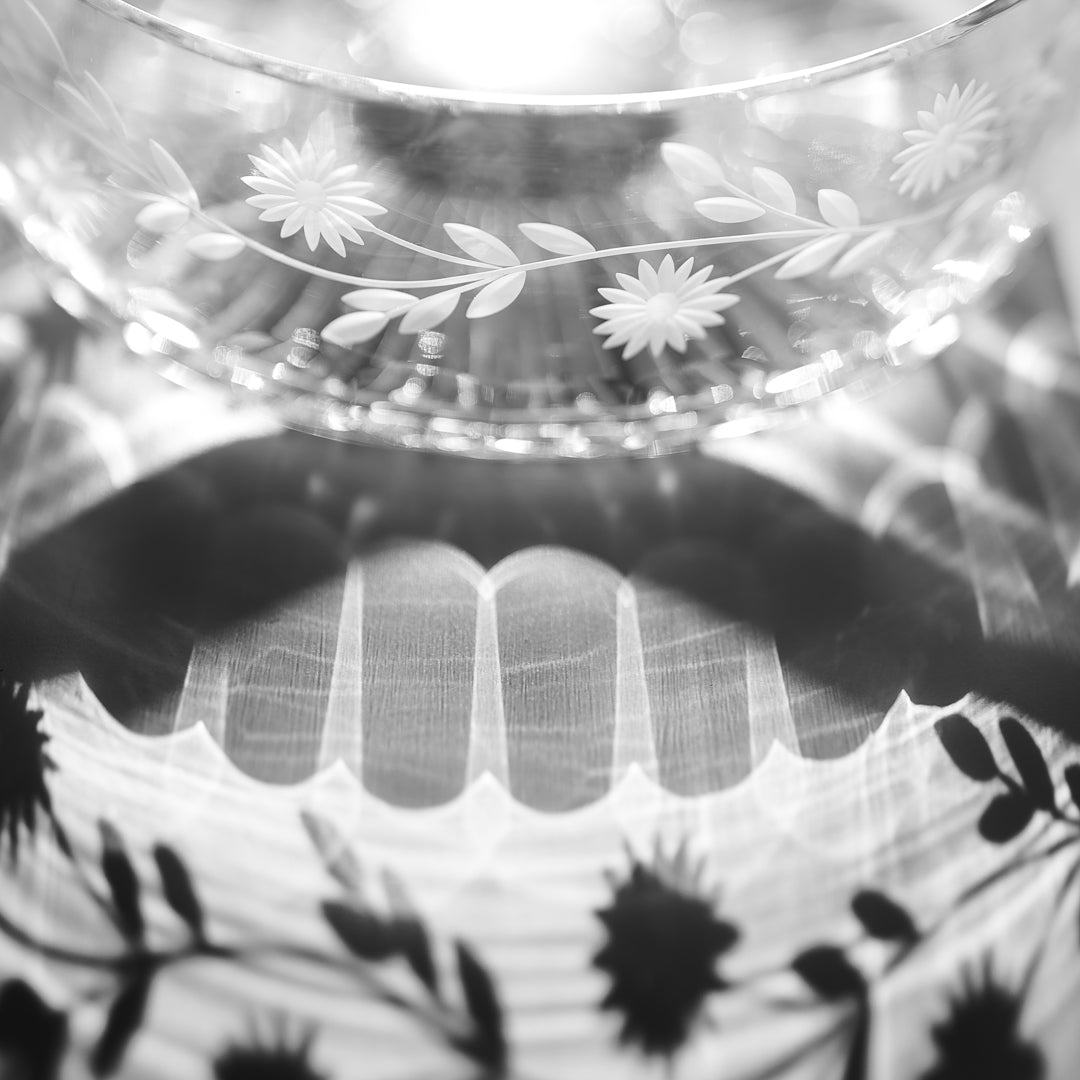 Introducing the Majestic Sovereign Coronation Collection: Unveiling Timeless Elegance and Luxury in Crystal
Cumbria Crystal are real royalists, and we love a reason to celebrate, so what better way to commemorate the coronation of King Charles III than with an exclusive crystalware collection?
The Sovereign collection was launched in the Spring of 2023 as we welcomed our new king to the throne, and it is a range inspired by his majesty's renowned love for the natural world. As you would expect from any Cumbria Crystal creation, this eight-strong selection of crystalware exhibits real artistry and exquisite craftsmanship. 
Each piece of crystal is delicately swathed in a floral-inspired design that blooms out from the core of the glass before blossoming into delicate leaves and petals towards the brim. 
Our first brand-new collection in many years deserves special attention. So, it is worth noting that each piece in the Sovereign range is unique to the next, featuring an eye-catching, non-geometric pattern that pays homage to King Charles' love for nature and flowers in particular.
The Sovereign Collection. 
Spanning eight elegant pieces of stunning crystalware, the Sovereign range contains something for everyone and any occasion. Of course, given its roots in royalty, the collection is perfect for bringing out at formal parties and special events; however, it is just as at home enjoying casual drinks with friends. After all, these stunning creations deserve to be seen.
Sovereign Gin Glasses.
Our remarkable meadow flower design wraps around the core of the Sovereign gin glass, stretching out towards the foot. This connection is representative of the roots, further reinforcing this collection's relationship with nature.
One for gin lovers (but just as good for a refreshing juice or mocktail), each crystal gin glass boasts generous proportions thanks to the classic balloon shape, allowing your beverage's natural flavours and aromas to be best showcased.  
Sovereign Martini Glasses.
The instantly recognisable, classic Martini glass silhouette gets a Cumbria Crystal makeover in our Sovereign collection.
The bold lines of the unmistakable inverted pyramid shape perfectly complement the soft design and delicate florals of our Sovereign pattern, while our well-balanced design means you can sip in style and comfort. 
We believe King Charles III is partial to a Martini himself, with his favourite cocktail being half gin and half dry vermouth.
Sovereign Large Wine Glasses.
The generous proportions of a Sovereign wine glass perfectly display our meadow flower design to its full breathtaking potential. 
The spacious bowl really brings the floral pattern to life. Once full of your favourite wine, it provides a stunning backdrop, showcasing the intricacies of our artisanal experts' craft and hard work. 
This design is practical, too, featuring eight hand-cut flutes that radiate from the glass's foot, up the stem, and into the base of the bowl. This craftwork adds extra stability as well as some all-important sparkle and sophistication.
Sovereign Champagne Coupes.
The coronation is a cause for celebration, and what better way to celebrate than with a glass of champagne?
The Sovereign champagne coupe is a delicately proportioned work of art ideally suited to cradling your favourite champagne or a delicious sparkling non-alcoholic beverage. 
Hand-blown and expertly cut by our team of experienced artisans, these champagne glasses are a true showstopper. 
Sovereign Old Fashioned Whisky Tumblers.
Raise this stunning Sovereign whisky glass and toast our monarch in style. Our floral motif is on full, glorious display here and looks even more magnificent as the rich ambers of your whisky dance through the light of our fine-cut crystal.
This 12oz glass is ideal for those who enjoy an Old Fashioned, a splash of mixer or prefer their favourite dram of whisky on the rocks. 
Sovereign Large Tumblers. 
The Sovereign large tumbler glass is undoubtedly the most versatile piece from this fabulous crystalware collection.
Perfect for everyday use, summer drinks that require lots of ice, such as Pimms or placing around a formal dinner table to be used as water glasses, there is no end to this adaptable glass' number of uses. 
A meticulous two-stage diamond roughing and sandstone smoothing process produces fifteen hand-cut flutes radiating from the glass's base up to 6.5cm.
Not only does this look spectacular, but it also benefits the glass ergonomically, allowing the piece to sit comfortably in your hand.
Sovereign Large Bowls.
The large bowl truly brings the magnificent work of our artisans to life, throwing the spotlight on our stunning meadow flower design and the detailed cutting work of our experts.
The perfect gift for a special occasion, an exquisite bowl for desserts and fruits or a fabulous decorative centre bowl; however you choose to showcase this extraordinary piece, it is sure to catch the eye.
Sovereign Ice Buckets.
If you want to cover all bases and really make an impression, the Sovereign ice bucket is a must-have inclusion to your barware collection.
Our floral motif is displayed boldly here, while eighteen hand-cut flutes rise from the bucket's base to a height of 4cm. 
Cut using a two-stage diamond roughing and sandstone smoothing process; this craftsmanship undoubtedly adds an extra air of sophistication to an already stunning design.
The Ideas & Talent Behind the Sovereign Design. 
Our first non-geometric design is a real labour of love, hand-cut with precision and care; no one piece is the same as the next, meaning that each part of our Sovereign coronation collection is unique. 
As previously mentioned, the design is inspired by King Charles III and his well-documented love of wildlife and nature. This inspiration lends itself perfectly to our crystalware's delicate proportions and detailed artistry, producing a collection fitting a monumental event in British history. 
The brains behind this stunning motif is Jitka Wilcox. Jitka is a supremely talented glass cutter with over 27 years of diamond wheel glass-cutting experience under her belt. Educated in her homeland of the Czech Republic at a glass technology college before gaining 16 years of experience at a Czech crystal factory, we at Cumbria Crystal knew she was the perfect pair of hands for this special collection. 
Able to translate even the most demanding, complex and intricate designs into beautiful products, Jitka has delivered a range of crystal barware befitting of royalty, hand-cutting each and every piece with the same perfection, precision and love for her craft that is typical of Cumbria Crystal. 

If you would like more information on our Sovereign collection or wish to hear about any of our other ranges, please do not hesitate to contact us at customerservices@cumbriacrystal.com or browse our E-Brochure.