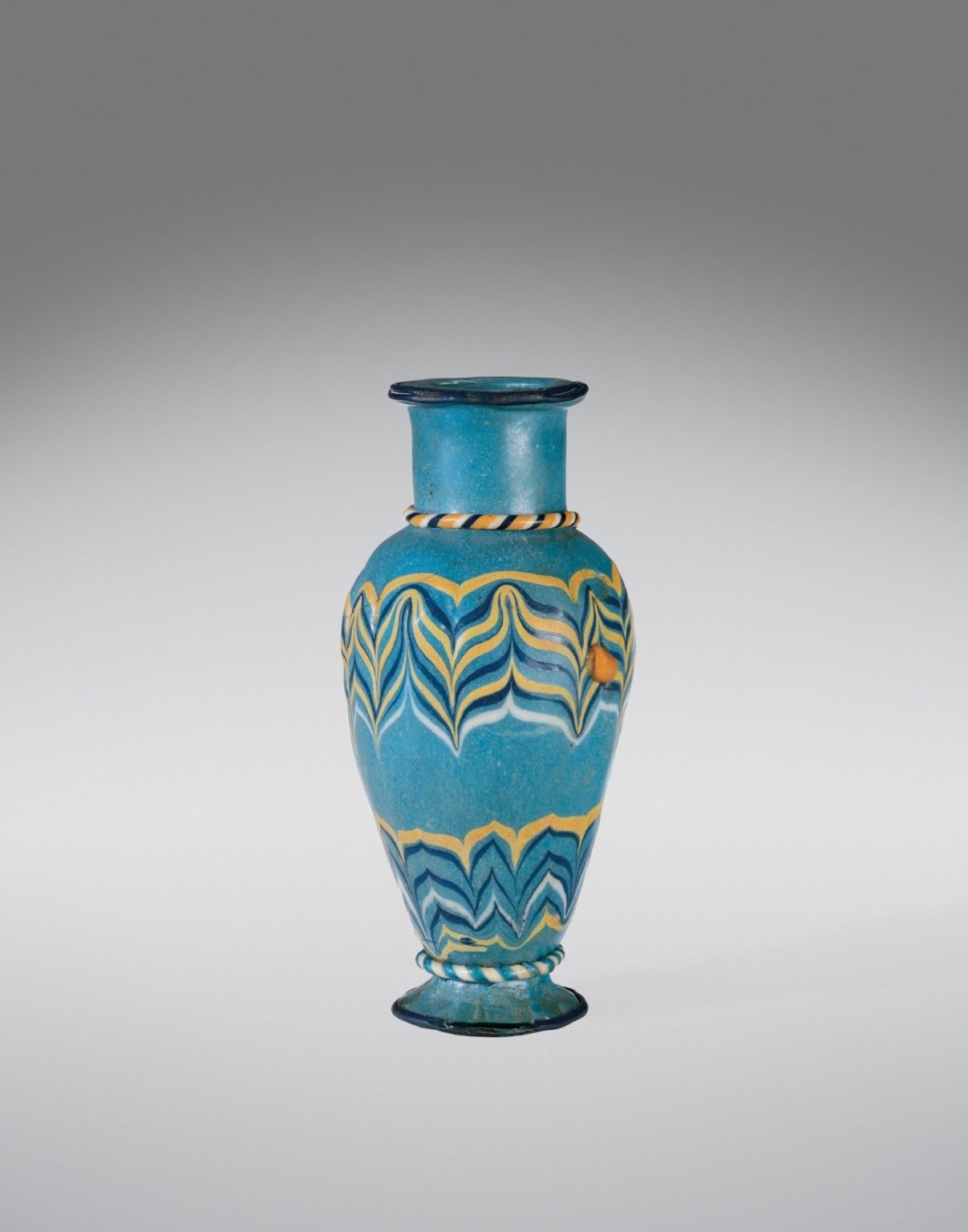 Cumbria Crystal's The History of Glass | Ancient Mesopotamia & Egyptian Glass
3000 – 1000 BC | Volume 1
By Dr Jessamy Kelly, glass artist and educator
Humans have made glass for over 5000 years and over time glass objects have shaped and changed human history. Glass is a material that people have worn as amulets, beads or jewels, traded, exchanged and longed after. They have drunk and ate from glass, the have cooked with it, they have treasured it, looked through it as windows or eyeglasses and into it as mirrors.
Figure 2. Portrait of King Amenhotep II, Egypt, 1426-1400 BC. Deep blue glass with light tan surface. Collection of the Corning Museum of Glass, Corning, NY (79.1.4).
  ​​
In more recent years, it has become apparent how the invention of glass has fundamentally changed humankind. In the 17th century, glass was pioneered by alchemists who first used it for their experiments, glass has led to many great scientific discoveries. Since then many great innovations have been made, from optical glass for lenses, microscopes and telescopes to test tubes, light bulbs, fibre optics, mobile phones and televisions. Finding ways to access the cultural values and significance of glass as a material over time brings the history of these objects into a new light. When handling and using glass in our everyday lives we can make a connection to the history of glass and the interesting stories it tells through its use. This series of articles, will introduce the history of this beautiful medium, providing a deeper understanding of how glass is made in both an historical and contemporary context.
"There is a story that once a ship belonging to some traders in nitrum* put in here (the coast of Lebanon) and that they scattered along the shore to prepare a meal. Since, however, no stones for supporting their cauldrons were forthcoming, they rested them on lumps of nitrum from their cargo. When these became heated and were completely mingle with the sand on the beach a strange liquid flowed in streams; and this it is said, was the origin of glass". (Pliny, Natural History, xxxvi, 191-2.)
This quote is from a roman naturalist named Pliny the Elder, who explained the invention of glass in the second half of the first century AD in his book Natural History. However, we now know that glass was actually made well before this. The origins of glass can be traced back to ancient Mesopotamia (3000 to 1000B.C) which is known today as the Middle East, and includes modern day Iraq and northern Syria. This article will introduce some of the earliest forms of glass, which can be traced back to ancient Mesopotamia and Egypt.
Figure 1. Broad Collar of Wah, Faience, linen thread, Egypt, early Middle Kingdom, Dynasty 12, (40.3.2). Collection of the Met Museum
​​
Figure 3. Disk Pendant with Star Pattern, cast glass, Northern Mesopotamia, 1500-1200 BCE, Collection of the Corning Museum of Glass, Corning, NY (63.1.26).
​​
ANCIENT MESOPOTAMIA & EGYPTIAN GLASS
One of the earliest known portraits to be made in cast glass is the head of Amenhotep II, a Pharaoh who ruled Egypt 1426–00 bce (see Figure 2). Glassmaking was introduced to Egypt during the reign of Thutmose III (the father of Amenhotep II). Most likely glass makers were captured during the Egyptian expansion into the Middle East and brought back to Egypt to make glass and share their secrets.
Egyptian perfume bottles and vases are among the first examples of core formed objects, a process which also predates glass blowing and reached its zenith by the 18th Dynasty. Glass objects were formed around a soft ceramic core; the ceramic is then removed leaving a hollow glass form. The colour of this object imitates the semi-precious stone turquoise, with the yellow and white decoration representing gold and silver (Figure 4).
Figure 4. Vase, 18th Dynasty, 1400-1300 B.C. Egypt Turquoise & opaque cobalt blue, yellow, white, with translucent cobalt blue; core formed, trail decorated. H. 10.7cm. Collection of the Corning Museum of Glass, Corning, NY (66.1.213).
​​
Next month's newsletter will introduce Glass from the Hellenistic period, which includes the years between the reign of Alexander the Great and the advent of the Roman Empire.
By Dr Jessamy Kelly
Jessamy Kelly is a glass artist and educator based in Edinburgh, she has worked as a freelance glass designer for Cumbria Crystal since 2016.
---
Do you have any questions or feedback? We would very much like you to share by emailing verity@cumbriacrystal.com
---
* nitrum is an alkali such as soda ash, which is a material used to make glass.