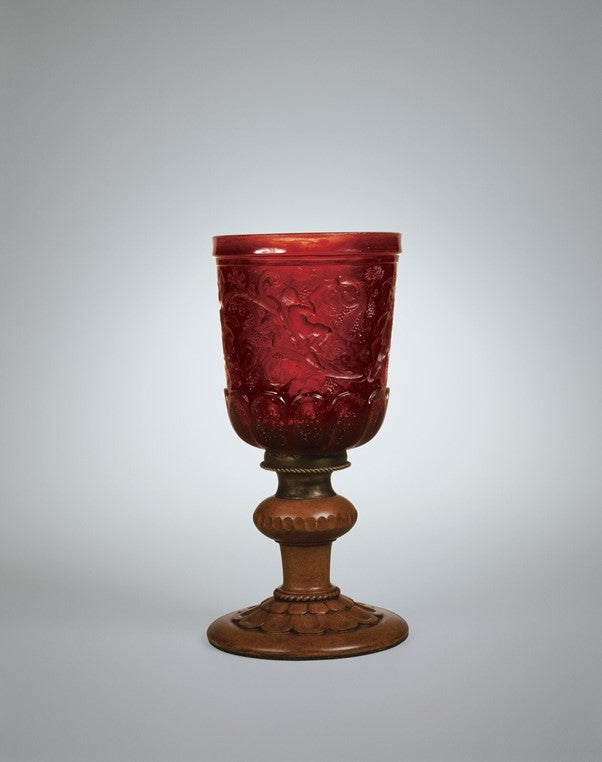 Cumbria Crystal's The History of Glass | Baroque Glass
Baroque glass | Volume 7
By Dr Jessamy Kelly, glass artist and educator
In this article we will examine the development of crystal in the 17th and 18th century and the Baroque and Rocco eras of glassmaking. The development of lead crystal by George Ravenscroft in London, in 1674 and early engraved examples from Germany and Bohemia will be discussed.  
Figure 1 Roemer, Savoy Glasshouse, made by George Ravenscroft England, London, about 1676-1678, 50.2.2. Courtesy of Corning Museum of Glass. ​​
The term crystal usually means glass that contains lead oxide. Only glass products that have at least 24% lead oxide can be legally called 'lead crystal'. In the mid 17th century, George Ravenscroft discovered that if you add lead to clear glass it creates crystal, which is a glass that has a greater brilliance. The lead oxide increases the refractive index which allows the glass to bend light more to create optical and prismatic effects. This Ravenscroft wine glass is based on a German shape called a rummer and resembles a medieval goblet, the cup has diamond patterns on it which were created by pinching the vertical ribs of the glass whilst hot with pincers, a raven's head can be seen on the stem of the goblet, which is the crest of the Ravenscroft family (see figure 1). 
Figure 2 Caspar Lehmann, Beaker with the coats of arms of Wolf Sigismund von Losenstein and Susana von Rogendorf, and three allegorical figures, dated 1605, Courtesy of the Museum of Decorative Arts in Prague. ​​
Baroque glass
Unlike many modern glass manufacturers Cumbria Crystal still use lead crystal. Our glass contains 24% lead oxide creating a brilliant shine, enabling glass to be blown thicker without discolouration and an enhanced refractive index when cut by our master craftsmen. Historically 'full-lead' crystal using 30% lead oxide was popular. The differences are imperceptible but enable us to reduce our environmental footprint. Being slightly softer than soda-lime glass, lead crystal is eminently suitable for carving, eventually leading to the evolution of decorative cut-crystal in which Cumbria Crystal specialises today. 
In the mid 17th century, glassmakers across central Europe developed other formulas for clear, colourless glasses. Cutters and engravers created highly ornate glass objects that imitated rock crystal by cutting into the glass with abrasive wheels. In Germany and Bohemia (now the Czech Republic), they combined potash with chalk to create a clear colourless glass, that could be cut with a wheel. They excelled in decolourised glass, creating elaborate forms with intricate cutting and engraving in the Baroque and Rococo styles.  
The German gem cutter Caspar Lehmann adapted the technique of copper and bronze wheel engraving from gem cutting. Lehmann created his most significant works in the Baroque style at the Potsdam glassworks, in Brandenburg, Germany. Huge goblets and beakers often with over-sized lids were engraved for the German court (see figure 2). The engraved glass tradition was continued at Potsdam by many notable engravers including Gottfried Spiller, this beautiful covered beaker bears the monogram of Frederick III Elector of Brandenburg, the first King of Prussia (see figure 3).  
During this period, glassmaker Johann Kunckel was working at the Potsdam glassworks and produced a ruby glass by adding purple of Cassius to the batch containing gold. He created large, intricately decorated glass vessels, which were engraved and often mounted with precious metals, this piece was engraved by Gottfried Spiller (see figure 4).  
Next month we will look at European cut & engraved Glass from the Biedermeier period 1800 – 1940, we will also look at examples from the Viennese firm of J. and L. Lobmeyr who commissioned ground breaking designs for their glass from the Wiener Werkstatte, who were a group of early modernist Architects and painters.  
By Dr Jessamy Kelly
Jessamy Kelly is a glass artist and educator based in Edinburgh, she has worked as a freelance glass designer for Cumbria Crystal since 2016.
---
Do you have any questions or feedback? We would very much like you to share by emailing verity@cumbriacrystal.com