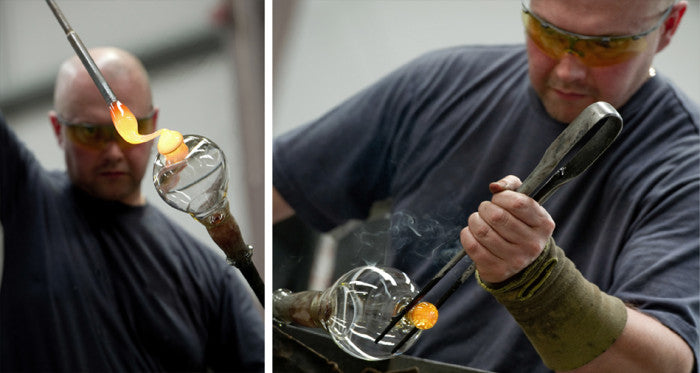 Cumbria Crystal was founded in 1976 by Lord and Lady Cavendish and a small group of local business people to produce exceptional, handmade full lead crystal tableware.
The artisan workforce was initially recruited from Stourbridge, historically the heart of the English crystal industry, and a team of craftspeople re-located to Ulverston at the southern edge of the English Lake District.
The Company has remained small and true to its artisan roots here in Ulverston. We employ 14 artisans at our factory where visitors can watch the alchemy of traditional crystal making.
Today, the Company produces crystal for all the British Embassies and Residencies across the world to grace formal dinners and state occasions.
Cumbria Crystal also supplies the crystal for the internationally acclaimed TV drama Downton Abbey, the Georgian inspired Grasmere pattern suits the formal Edwardian tables to perfection.
Cumbria Crystal collections sell in renowned London retailers Linley, Thomas Goode, Fortnum and Mason, Heals and Mulberry Hall in York. This also includes the Foreign Embassies and Diplomatic Mission Supplies.
We also design bespoke collections for retailers and designers such as Thomas Goode, Linley, Lee Broom, John Walker and Sons and others. Cumbria Crystal Collections are used by royalty worldwide and we also make a range of commemorative gifts to celebrate significant Royal occasions such the Diamond Jubilee, the Royal Wedding and Royal Christening.