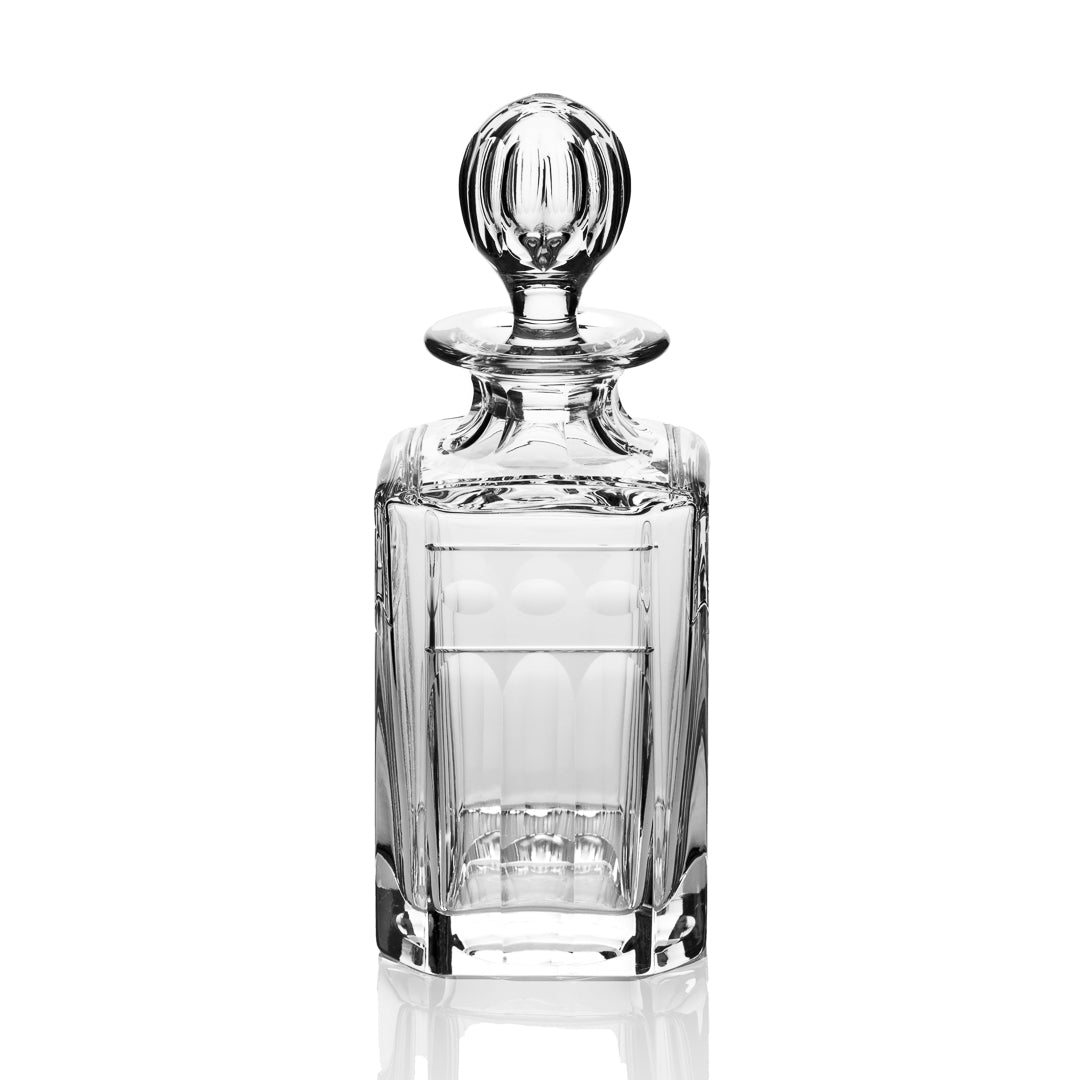 Helvellyn Square Liqueur Decanter (The Outlet)
SKU: DC-207-HY-FO
---
A traditional Square Liqueur Decanter from the Helvellyn Collection: DC-207-HY-FO

Discontinued Stock Sale


Holding approximately 750ml this decanter is slightly smaller than the Square Spirit Decanter (DC-208-HY) which holds around 1000ml.

Helvellyn is one of our traditional collections with its origins firmly rooted in Jacobean design. The elegant pattern of flutes and olives was designed by Lady Grania Cavendish in 1976.

This collection is favoured for formal dining & entertainment by most British Embassies, Consulates and Residencies around the world. As such it has featured in many films and TV series' as it represents a timeless elegance and aspirational lifestyle.
The name Helvellyn shares its name with one of the most significant and spectacular mountains in the stunningly beautiful English Lake District National Park which is close to the Cumbria Crystal Factory.

H:23cm; W:9cm; 750ml

Crafting exclusively by hand inevitably means that a small proportion of our products do not pass the rigorous quality checks required to be assessed as Premium Quality. These are classified as Slightly Imperfect or Second Quality . Slightly Imperfect products may have minor flaws such as small bubbles, stones, slight discolouration or subtle variations in size or weight. Customers for whom compromise is not an option should consider the Premium Quality.
Standard collections - Our products are handcrafted by our small team of artisans on a made-to-order basis. If your product must be handcrafted especially for you, we will be in touch to inform you of this and advise you of an anticipated delivery date. You will not have to wait any longer than 8 weeks if we do not have your order in stock, but we always endeavour to deliver to you much sooner than this. If we are unable to deliver your order in time for a special event, you will be given the option of a Commissioning Letter that can be gifted whilst waiting for your crystal to arrive. Please state in your Order Notes if you require for a certain date.
The Outlet at Cumbria Crystal - All items featured in The Outlet are in stock.
Choose options