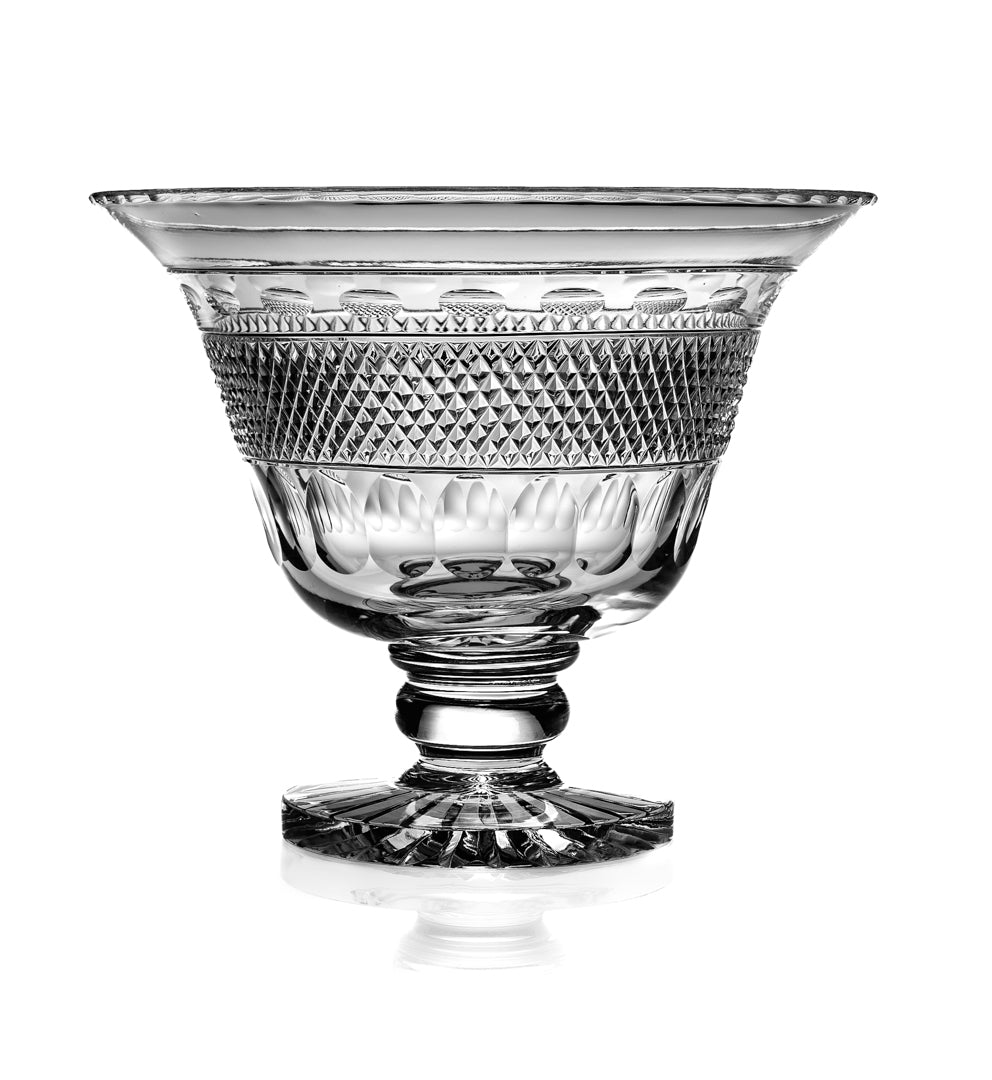 Grasmere Centre Bowl (The Outlet) DISCONTINUED
SKU: BW-401-GR-FO
---
A large impressive footed Centre Bowl - BW-401-GR-FO

This impressively large crystal bowl serves as the centre-piece of any table. Used for fruit, punch or just chilling champagne on ice this bowl and cannot fail to impress.

The Grasmere Collection shares its name with the famous village and lake in the English Lake District where the famous poet William Wordsworth once lived. Crafted in a classic Georgian style, the refinement and complexity of the design has stood the test of time and today remains the most iconic and popular of all the Cumbria Crystal collections.

The Collection has featured in many films and period dramas as it beautifully embodies the essence of luxury living. Its recent popularity is enhanced after featuring in every episode of the post-Edwardian era drama Downton Abbey. It's use by James Bond in Casino Royale has further increased its popularity!

The complexity of this collection means that seven diamond and sandstone wheels, and three specialist engravers are required to hand-carve the intricate designs into each item in the Collection.

H:27cm, Ø27cm

Crafting exclusively by hand inevitably means that a small proportion of our products do not meet our standards to pass the rigorous quality checks required to be assessed as Premium Quality. These are classified as Slightly Imperfect or Outlet Quality. Slightly Imperfect products will have minor inconsistencies such as small bubbles, stones, slight discoloration, or subtle variations in size or weight. Customers for whom compromise is not an option should consider our Premium Quality alternative.
Standard collections - Our products are handcrafted by our small team of artisans on a made-to-order basis. If your product must be handcrafted especially for you, we will be in touch to inform you of this and advise you of an anticipated delivery date. You will not have to wait any longer than 8 weeks if we do not have your order in stock, but we always endeavour to deliver to you much sooner than this. If we are unable to deliver your order in time for a special event, you will be given the option of a Commissioning Letter that can be gifted whilst waiting for your crystal to arrive. Please state in your Order Notes if you require for a certain date.
The Outlet at Cumbria Crystal - All items featured in The Outlet are in stock.
Choose options